of Ganesh Tree & Plant Health Care
History & Philosophy of Ganesh Tree & Plant Health Care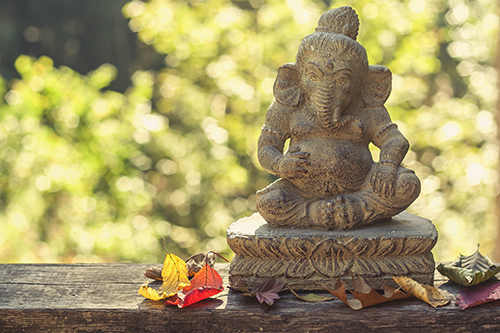 "You cannot teach a child more than you can grow a plant. The plant develops its own nature. The child also teaches itself. But you can help it go forward in its own way. What you can do is not of a positive nature but negative. You can take away the obstacles, and knowledge comes out of its own nature. Loosen the soil a little, so that it may come out easily. Put a hedge around it; see that it is not killed by anything. You can supply the growing seed with the materials for the making up of its body, bringing it the earth, the water, the air that it wants. And there your work stops. It will take all that it wants by its own nature. So with the education of the child. A child educates itself. The teacher spoils everything by thinking that he is teaching. Within man is all knowledge, and it requires only an awakening, and that much is the work of the teacher."
– Swami Vivekananda
"When Earth (man) ascends toward Heaven, and Heaven (God) descends toward Earth they are moving together in communion and fulfilling their duality thus bringing Harmony between human beings and their natural surroundings. This auspicious event establishes peace, safety, security, good health, prosperity and great bliss for all living beings."
– I Ching
"Do not try to develop what is natural to man; develop what is natural to Heaven. He who develops Heaven…benefits life; he who develops man – injures life."
– Chuang Tzu
Ganesh Tree and Health Care is solely owned and operated by Joseph A. Kowalski.  I have been in the business of tree and plant health care since 1976.
I have been a resident of Sturbridge, Massachusetts since 1989.
I hold a Bachelor of Science "Cum Laude" (1976) degree from the University of Massachusetts in Forest Ecology.  I am a Certified Arborist both with the Massachusetts Arborists Association (1990) and the International Society of Arboriculture (1989). I am a Massachusetts Licensed Forester and a Massachusetts Licensed/Certified Commercial Pesticide Applicator.
I was employed with the Commonwealth of Massachusetts as a forester, arborist and tree biologist from 1983 – 2009.  From 1977 – 1983 I worked for the Federal government as a forest ecologist in western Oregon.  I have been the Deputy Tree Warden for the Town of Sturbridge since 1994.
My professional philosophy and services offer the promotion of tree and plant health in urban and residential landscapes through integrated treatments that enhance the entire growing system in which the plant functions.  I offer complete tree and landscape plant diagnostic health evaluations.  I perform tree risk assessments and economic evaluation assessments.  I execute pre-construction tree health evaluations and implement remedial post-construction plant health enhancements and recovery.
The core essence of my plant health prescriptions weigh heavily on enhancing and evolving the soil "complex"; its physical structure and composition, the mineral and elemental symmetry, the organic composition and the micro-biological component that lives within it.
Soil conditions are improved and plant vitality is cultivated through a sustained slow progression that optimizes both plant health and soil structure development.  This follows a progression evolving a soil fertility that mimics the conditions found in nature in which trees and plants reach their fullest potential and health.
"Whatever is the seed of all beings, I am that, there is nothing animate or inanimate which can exist without me."
– Bhagavad Gita  10.39
"Cultivate the root. The leaves and branches will take care of themselves"
– Confucius